When it comes to skip sizes, there's a wide variety to pick from. This is excellent for making sure you can hire the appropriate size for your specific job, but it might get a bit confusing, especially if you're new to skip hire.
But no need to worry. We can assist you in selecting the right skip for your requirements. We provide a comprehensive range of sizes, starting from the 2-yard mini skip to the 40-cubic-yard RORO and everything in between.
In this guide, you'll find details, measurements, and potential uses for each of the different skip sizes we offer. You'll also discover answers to some of the most common questions about the available sizes.
Skip Sizes – 2 Yard to 40 Yard
2 Yard Skip
The 2-yard skip is perfect for compact household tasks and minor garden clean-ups, accommodating approximately 20 bin bags of waste material.
4ft Length x 4ft Width x 3ft Height
4 Yard Skip
Capable of accommodating 40 bin bags of waste material, the 4 yard skip is excellent for minor household projects such as garden clearance.
6ft Length x 4ft Width x 3ft Height
6 Yard Skip
The 6 yard skip is a favored choice for handling large and heavy waste items like builder's waste, household materials, and various general waste materials.
8.6ft Length x 5ft Width x 4ft Height
8 Yard Skip
Frequently known as a builder's skip or maxi skip, it's excellent for handling bulkier items like builder's waste, household waste, and various general materials.
12ft Length x 5.6ft Width x 4ft Height
10 Yard Skip
The 10 yard skip size boasts a generous 100 bin bags capacity, making it perfect for substantial projects, DIY tasks, or even smaller construction jobs./
12.3ft Length x 5.1ft Width x 4ft Height
12 Yard Skip
Ideal for extensive household clearances and handling bulky builder's waste, it's perfect for those larger DIY projects that have spiraled out of control!
12.2ft Length x 5.1ft Width x 5.6ft Height
14 Yard Skip
The 14 yard skip size is excellent for handling lighter general waste, such as garage and attic clearances, while heavy-duty waste is not allowed.
13.5ft Length x 5.9ft Width x 5.1ft Height
16 Yard Skip
Among the largest skips offered, it's optimal for minor construction endeavors, extensive household projects, shop fitting tasks, and various types of general waste disposal.
13.5ft Length x 5.9ft Width x 5.11ft Height
18 Yard Skip
Frequently, the most substantial non Roll-on Roll-off skip option on hand. These skips serve various needs and can accommodate a significant volume of waste. They offer an excellent resolution for extensive tasks or multiple smaller tasks occurring simultaneously.
13.5ft (4.11m) Long x 6.5ft (1.98m) Wide x 7ft (2.13m) High
20 Yard Skip
These larger skips are favored for construction projects, capable of handling substantial waste, including large and bulky items, making them popular choices for building jobs.
20ft (6.10m) Long x 8ft (2.44m) Wide x 4ft (1.07m) High
25 Yard Skip
25 Yard Skip Size Offering ample room for disposing substantial quantities of construction waste and debris, this space accommodates timber, metal, rubble, and even garden waste efficiently.
20ft (6.10m) Long x 8ft (2.44m) Wide x 5ft (1.52m) High
40 Yard Skip
The 40-yard skip is the largest roll-on roll-off (RoRo) skip size, ideal for substantial waste disposal needs when you have a significant amount of waste material to be discarded.

Choosing the Right Skip Size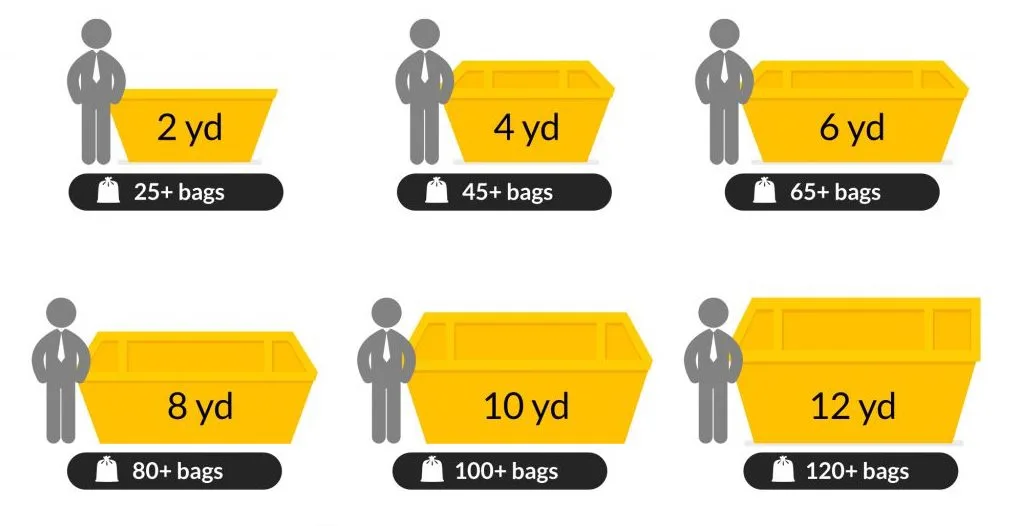 2 Yard Skip
Looking to hire a 2-yard skip to clear waste from your home or business? We offer the best prices on these mini skips, delivering to cities, towns, and villages across the UK.
True to its name, the mini skip is our smallest option, holding 2 cubic yards of waste. It's ideal for disposing of small quantities of waste from homes or businesses.
This skip can handle various waste types, including:
Building waste like concrete, bricks, and rubble.
Household waste such as old clothes, small furniture, bathroom tiles, kitchen units, and toys.
Garden waste including soil, hedge trimmings, grass cuttings, and branches.
Office waste like cardboard boxes, paper, and kitchen waste.
The 2-yard skip size is perfect for small DIY projects at home. Whether you're retiling the bathroom, replacing an old laminate floor, renewing kitchen units, or clearing space in the garden shed, hiring a mini skip is an affordable and convenient choice.
4 Yard Skip
The 4-yard skip is an excellent choice for homeowners aiming to tidy up their homes. It's perfect for general household cleaning and is also ideal for home renovations, including removing an old bathroom suite, disposing of garden waste, and various other tasks.
Apart from being popular among homeowners, the 4-yard skip is versatile and finds use in several commercial applications. Whether you're refurbishing a shop, clearing out an office, or a builder working on a small customer project, our 4-yard midi skip might be just the right size for your needs.
This skip is suitable for all types of waste and can hold approximately 30 to 40 bags of rubbish. Examples of waste that a 4-yard skip can handle include:
Household waste: old toys, furniture, kitchen units, bathroom suites, and clothing.
Garden waste: grass, tree branches, hedge trimmings, and soil.
Construction waste: rubble, stone, and bricks.
Office waste: paper, cardboard, and old office furniture.
6 Yard Skip
The 6-yard skip size, often known as a small builders skip, is ideal for mid-level projects like small construction jobs, office clearances, or home renovations.
About the size of a small van, this 6 cubic yard skip can hold approximately 50-60 bin bags of rubbish. It's versatile and suitable for disposing of various waste types, including:
Soil, bricks, and rubble
Wood, pallets, and other timber
Garden waste like tree cuttings
Household items and furniture
Scrap metal
Office waste such as paper and cardboard
If needed, the 6-yard skip size can come with a drop door, making it easier to load heavy waste like soil. This allows the use of a wheelbarrow to wheel the rubbish directly into the skip without lifting it over the side.
Our 6 cubic yard skip is a practical choice among all skip sizes for both domestic and commercial customers. Delivery options include private properties like driveways or on the road if necessary.
Please note that if you require the skip to be placed on the road, a permit from your local council is necessary. This process typically takes a few days to arrange and will incur an additional cost to the skip hire.
8 Yard Skip
The 8-yard skip, often known as a maxi or builders skip, is incredibly popular and widely used for construction projects requiring disposal of heavy waste like soil, rubble, and bricks.
Similar to some of our smaller skips, the 8-yard skip can come with a convenient drop-down door. This feature makes loading it with a wheelbarrow much simpler, saving you from the strain of lifting heavy waste over the skip's sides.
This skip size is also perfect for tasks involving bulky waste, such as removing old kitchen units, clearing out large office furniture, and handling extensive landscaping projects.
To place the skip on the road, you'll need permission from the council in the form of a skip permit. Regulations vary across the UK, but in many cases, the 8 cubic yard skip is the largest size allowed on the road.
8 Yard skip size Capable of holding approximately 60 to 75 bin bags of rubbish, the 8 cubic yard skip offers great value for various large projects. Whether for domestic or commercial purposes, it can accommodate diverse waste types, including:
Bricks, concrete, rubble, and soil
Tree and hedge cuttings, along with other garden waste
Household items like furniture, kitchen units, worktops, and bathroom fittings
Office clearances, including furniture, cardboard, and paper
10 Yard Skip
The 10-yard skip falls into the category of commercial skips, primarily intended for businesses and tradespeople. It's especially useful for disposing of office waste, handling construction projects, and situations where substantial amounts of rubbish need removal.
Although primarily designed for businesses, you can also hire a 10 cubic yard skip for your home. Its large capacity makes it perfect for disposing of lightweight household rubbish. If you have an old sofa, loft clutter, or a pile of garden waste to get rid of, this skip size could be just what you need.
Due to its size, this skip should only be used for lightweight materials. It's not suitable for heavy construction waste such as rubble, soil, or concrete.
12 Yard Skip
If you're tackling a substantial project, the 12-yard skip size could be the ideal solution. With the capacity to accommodate up to 120 bags of waste, this skip is versatile and suitable for various domestic and commercial tasks.
Whether you're renovating retail spaces, clearing out old office furniture, or decluttering the loft from years of household accumulation, the 12-yard skip offers a practical choice.
Similar to the 10-yard containers mentioned earlier, this skip size isn't designed for heavy building waste such as rubble, soil, or concrete. Filling it with these materials would make the skip excessively heavy and unsafe for lorries to handle.
14 Yard Skip
The 14-yard skip is a versatile container suitable for a variety of commercial and domestic purposes. It has the capacity to hold up to 145 bags of rubbish.
Commonly utilized for disposing of DIY waste, kitchen and bathroom renovations, house clearances, and garden waste (like leaves, grass cuttings, and hedge trimmings), the 14-yard skip proves useful in numerous domestic scenarios.
In commercial settings such as factories, construction sites, and distribution centres, these skips are also commonly employed.
However, it's important to note that they are not suitable for heavy materials like soil or bricks. If you have lightweight waste to dispose of, considering a 14-yard skip size might be the right choice.
16 Yard Skip
The 16-yard skip stands as the largest in our standard range, making it a powerhouse option for substantial tasks. Primarily meant for commercial purposes like office clearances, shop refits, and general business waste disposal, this skip is tailored for big jobs.
However, if you're tackling a sizable household project and need to dispose of bulky waste such as furniture or tree cuttings, the 16-yard skip is an excellent choice. It towers at a height of over 6′ 7″ and has the capacity to hold an impressive 160 bin bags of waste.
It's important to note that this skip is suitable only for lightweight materials, ruling out heavy construction waste like rubble or soil. Aside from that restriction, the 16-yard skip size can handle a wide array of different waste materials.
18 Yard Skip
If you require an exceptionally large skip, the 18-yard skip is your ultimate choice, being the largest in the maxi skip range. Typically reserved for substantial projects generating significant waste, these skips are commonly found on building, construction, and industrial sites due to their ample capacity. Their popularity in these sectors underscores their reliability and efficiency in handling vast amounts of waste material. Consider the 18-yard skip for your sizable projects to ensure efficient waste management.
20 Yard Skip
The 20-yard skip marks the beginning of our roll-on-roll-off container range, often abbreviated as RORO. Unlike conventional skips lifted by chains, RORO skips employ a hook-lift system for loading and unloading from lorries.
While it's the smallest in the roll-on-roll-off category, the 20-yard container remains substantial. Primarily intended for commercial waste management tasks requiring disposal of large volumes of rubbish, it's a preferred choice for businesses dealing with substantial waste quantities.
25 Yard Skip
The 25-yard skip size Roll On Roll Off (RORO) is designed for mixed commercial and industrial waste. These 25-yard ROROs can have minor amounts of soil or rubble/bricks, but overloading with these materials is not allowed.
These skips cannot be placed on driveways due to their size; they require a spacious, clear area. It's essential to thoroughly assess access issues before ordering, as placing this type of container on a public highway is not permitted.
40 Yard Skip
The 40-yard skips stand as the largest waste containers among all skip sizes, available in the UK. Primarily hired by businesses, they can also be used by domestic customers, provided there's enough space for a container of this size.
These industrial-sized skips serve as long-term solutions for businesses generating substantial waste volumes, meeting their waste management and recycling requirements effectively.
Whether you require a one-time collection or a large skip for regular onsite emptying, the 40-yard Roll On Roll Off (RORO) is an outstanding choice.
Similar to the 35-yard skip size mentioned earlier, this size is compatible with a waste compactor, helping to reduce business waste costs and collection frequency.